We all love bowling, but our main goal with The Dude Hates Cancer is to raise money and eventually cure cancer. That's why we reward our participants with fundraising prizes for their fundraising efforts rather than for their exploits on the lanes.
All participants that raise additional money for our cause outside of their registration fee stand to win great prizes in our fundraising competition. We're continually collecting fundraising prizes from generous businesses for this year's event, and as they come in we'll post them here to whet your fundraising appetites.
*NEW* PARTICIPANT FUNDRAISING REWARDS
Fundraise $100+ to receive the official 2019 event t-shirt
Fundraise $500+ to also receive a TDHC hoodie
Fundraise $1,000+ to also receive a TDHC bathrobe!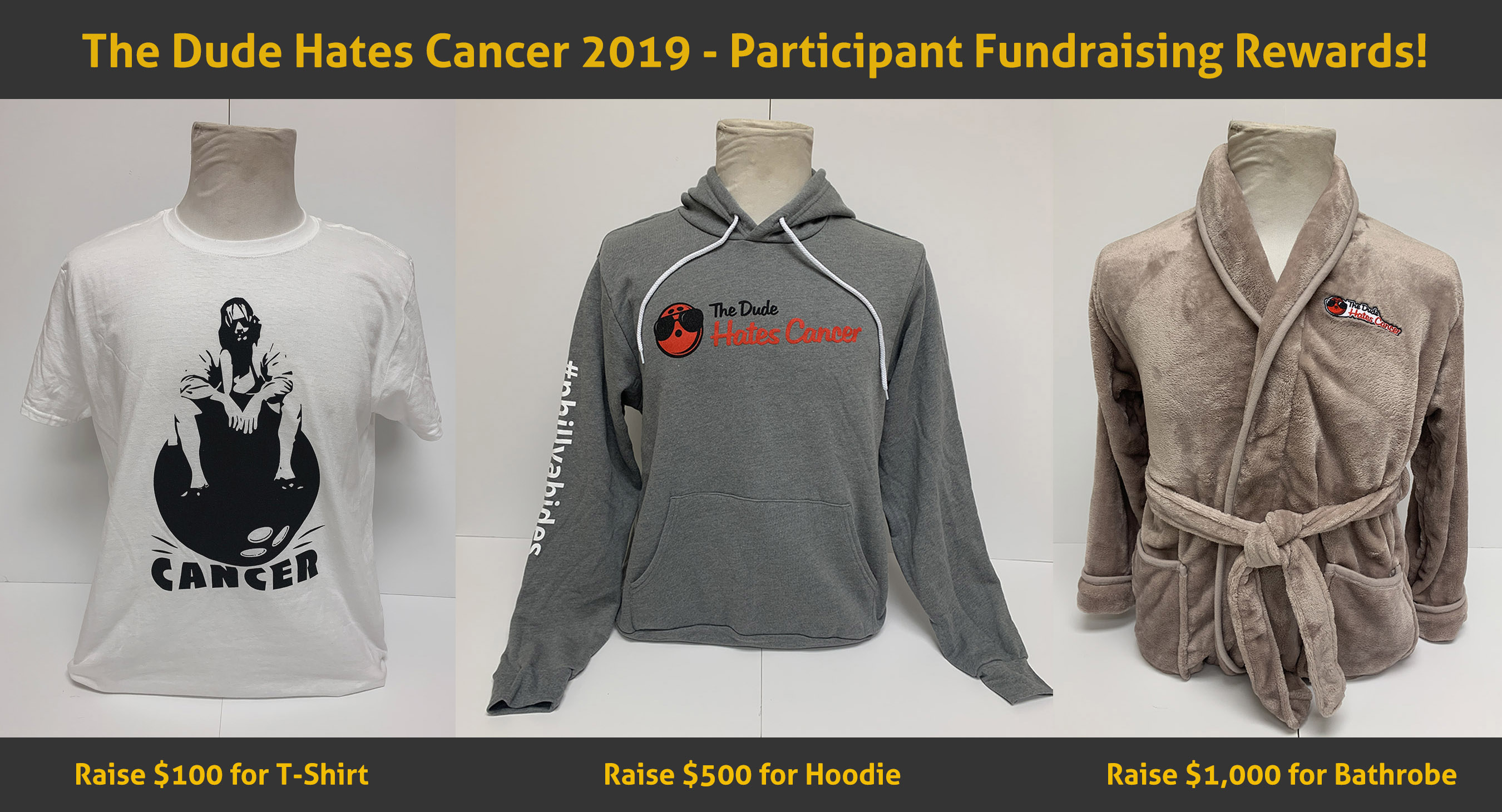 2019 PRIZES FOR THE TOP FUNDRAISING INDIVIDUALS
1st Place

– One-night stay for 2 at the Philadelphia Marriott Downtown. King or double-double accommodations. Value $270.

2nd Place

– $75 gift certificate and 1 six-pack of Yards Pale Ale from Yards Brewing. Value: $90

3rd Place

– Celebratory White Russians: 1 bottle Tito's Vodka + 1 bottle Kahlua. Value $45
2019 PRIZES FOR THE TOP FUNDRAISING TEAMS
1st Place

– The Big Booze Prize, a collection of favorite wine and spirits donated by our 2019 committee members, includes: Bluecoat Gin, Knob Creek Whiskey, Lunazul Blanco Tequila, Maraschino Liqueur, Kahlua, Placer Andaluz Tempranillo Syrah (2), Stateside Vodkda, Titos Vodka, Tullamore Dew Irish Whiskey, Woodbridge Chardonnay! Total value $272

2nd Place

– The Big Beer Prize, six cases of beer from Yards Brewery!! Total value: approximately $200

3rd Place

– Bowling party for 10 at Pinsetter Bar & Bowl, value: $125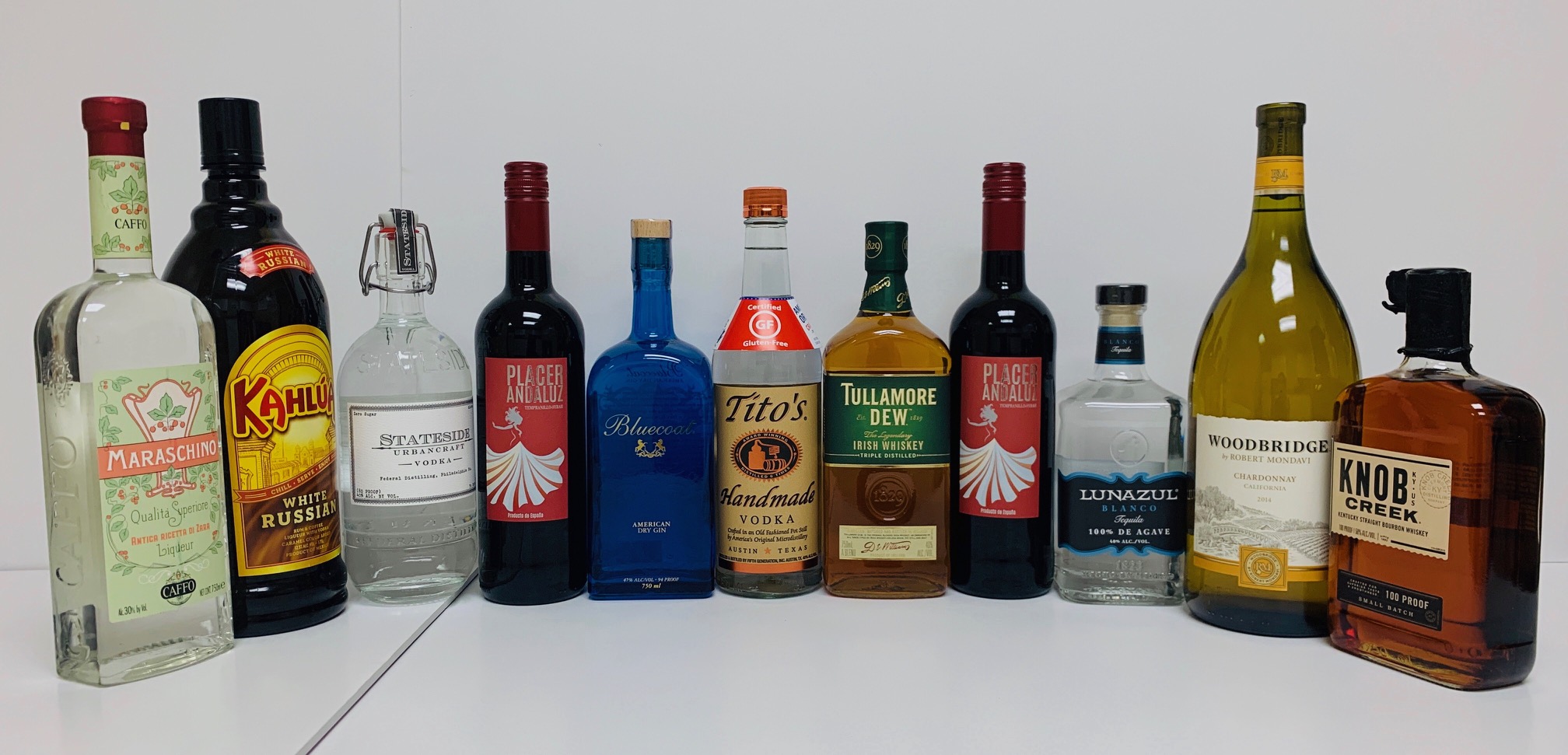 THE FUNDRAISING RAFFLE
Any participant that raises over $100 for the cause is automatically entered into the fundraising raffle, where they can win any number of great prizes. The more you raise, the more chances you get!*
Every $100 raised: 1 ticket in the fundraising raffle
Funds raised must be recorded online (on personal fundraising pages) by 9/20 at 12:00 noon.
You will receive your raffle tickets when you check in at the tournament, and we will draw winners during the bowling tournament.
This year's prizes will be posted here as they get collected. Fundraising Raffle prizes will include:
*One prize per participant. If your name gets drawn more than once to win a prize, you can choose between the new prize or your previously won prize.
RAISE MONEY! WIN THINGS!
Thanks so much to our sponsors and Friends of the Dude for donating these prizes!