The Dude Hates Cancer Bowling Tournament
Each campaign of The Dude Hates Cancer culminates in a laid back, Dude-like bowling tournament where teams "compete" against each other for top honors on the lanes. Three hours of bowling is the reward for a job well done on the fundraising trail and a fitting wrap-up to this "Big Lebowski"-themed event.
Register Your TeamJoin The Dude 2019 Today!
This is bowling, there are rules…
There are a few rules for this event. Here they are:
Teams of 6 to 10 bowlers (minimum two females per team must be bowling in each game).
Each team has three hours to bowl at least two (2) games. If a team only finishes two (2) complete games during its allotted 3-hour time slot, then those two (2) games count towards the tournament. If a team finishes three games in its three hours, the two (2) highest cumulative scores are counted towards the tournament.
For a game to count, it must be completed within the three-hour session. Teams will not be allowed to finish an active game once the three hours are up, no matter how close to finishing they may be.
Whichever team totals the highest combined scores over two games wins the tournament.

In the event of a tie, the winning team will be the team with the highest single game score (team, not individual).
If still a tie, the winner will be the team with the highest individual game score (if still a tie after this point, then a coin flip will determine the winner).

All standard bowling rules apply (i.e. toes must stay behind the line, no steroid use, etc.).
Barring a machine malfunction of some sort, the computerized lane scoring will stand as the official score. Please ask a tournament official to verify your score after each round.
In the event of an injury, substitution will be allowed (provided the sub isn't a member of the PBA).
No members of the PBA are allowed to participate.
Fundraising Requirements & Rewards
***NEW THIS YEAR*** Each participant must raise a minimum of $100 in order to bowl. With only 16 spots for teams, we encourage all participants to fundraise above and beyond their registration dues in order to help us reach this year's $70,000 goal to fight blood cancers. Also, we are introducing fundraising level rewards!
Fundraise $100+ to receive the official 2019 event t-shirt
Fundraise $500+ to receive a TDHC hoodie (and the t-shirt)
Fundraise $1,000+ to receive a TDHC bathrobe (and the hoodie and t-shirt)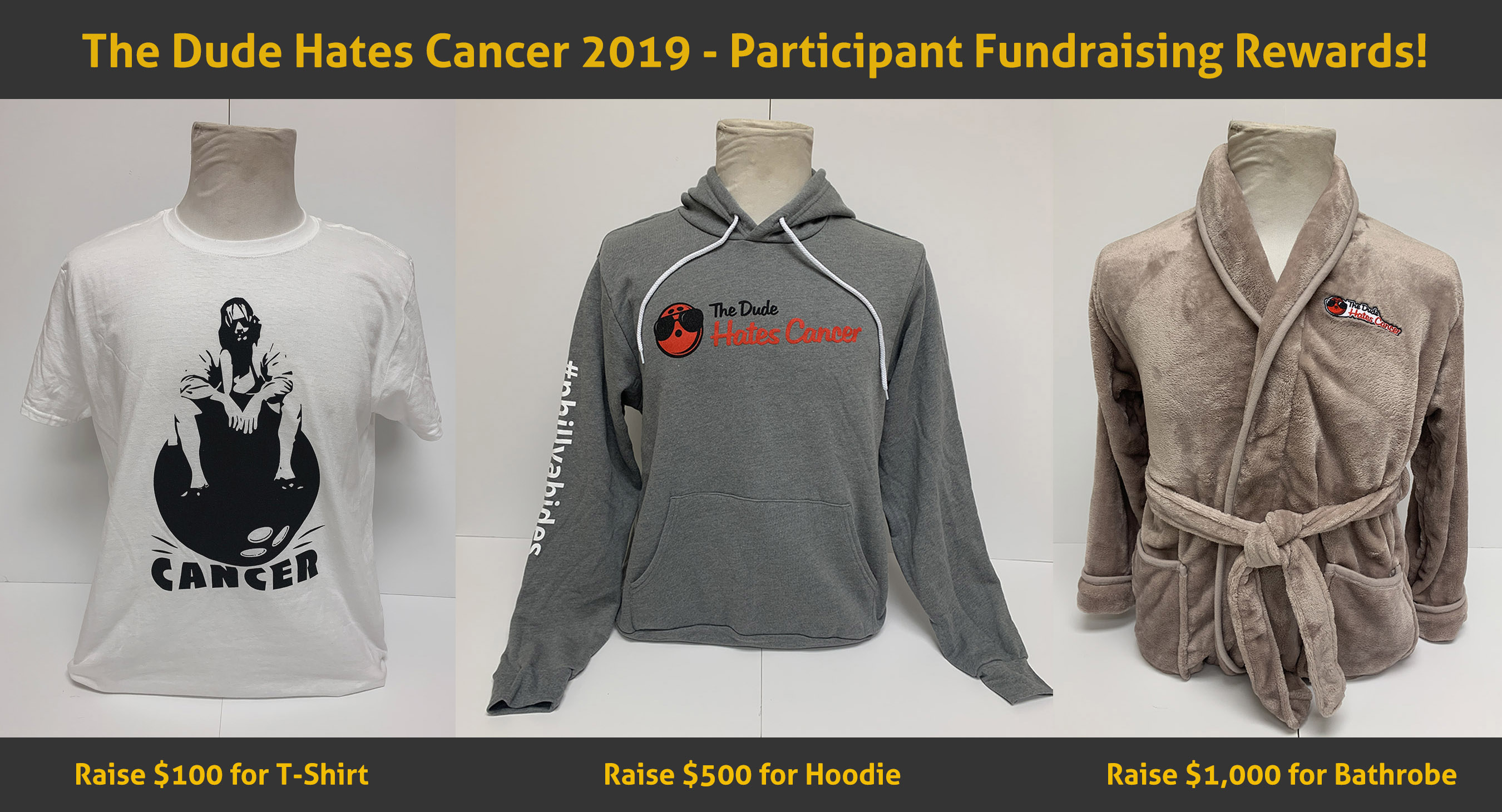 Don't forget, the top 3 fundraising individuals and top 3 fndraising teams will also win our best prizes, as always! Prizes are being collected now and will be posted here.
Bowling Award Categories
For all the glory, tournament results and bowling awards will be presented at the official After Party, in these categories:
1st Place Bowling Team – gold medals
2nd Place Bowling Team – silver medals
3rd Place Bowling Team – bronze medals
Top Male Bowler – trophy
Top Female Bowler – trophy
Worst Male Bowler – trophy
Worst Female Bowler – trophy
Best Team Spirit – trophy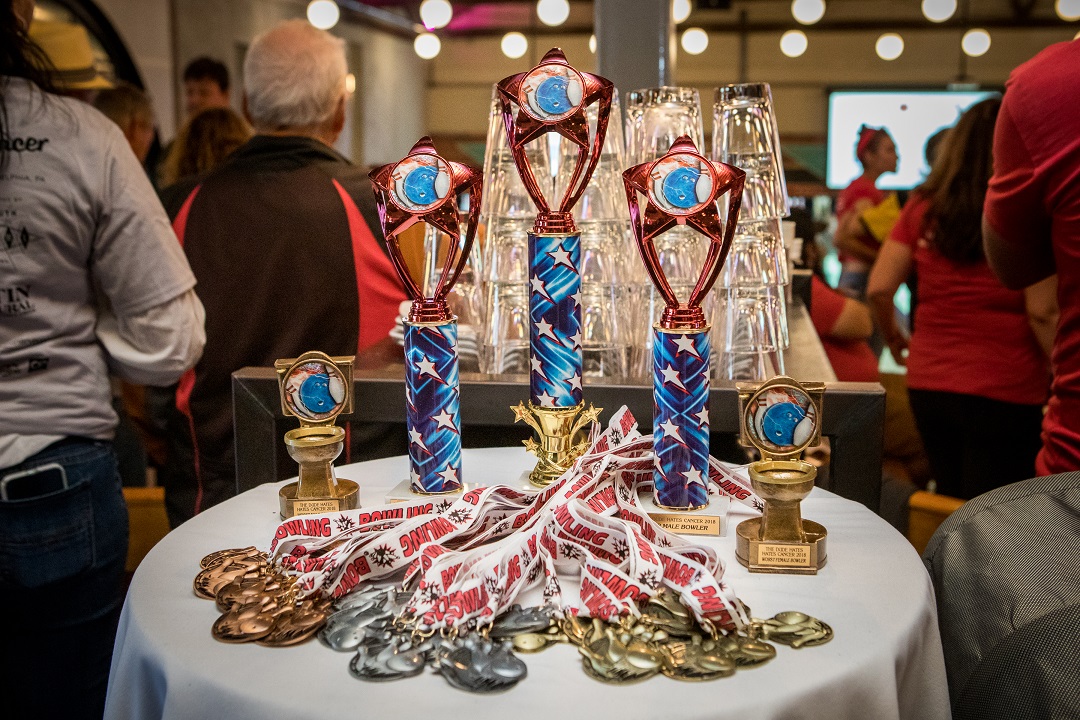 Quick Summary
Team Size:
6 to 10 bowlers per team
(Max 6 bowlers per game; at least two females must bowl in each game)
Price:
$350 per team
(as little as $35 per person)
***Early bird registration at $300 per team, on or before kick off: 6/24/19!
Registration includes (for all team members):
Three (3) hours of bowling
Free shoe rental
Free event t-shirt
Free admission to Jackie Treehorn's After-Party
Free tator tot bar at the event
Chances to win great prizes!
Fundraising Minimum:
Each participant must raise a minimum of $100 (separate from registration fee) in order to bowl in the tournament
Payment Types Accepted:
Cash, check or credit card
Date: Saturday, Saturday 21, 2019
Location: South Bowl
Time: 2:30pm to 6:00pm
All teams must arrive at 2:30pm for check in; Tournament starts promptly at 3pm
Goal: $70,000 for The Leukemia & Lymphoma Society!
Only 16 spots available in 2019's tournament! Roll with us! REGISTER TODAY