THANK YOU to everyone who made The Dude 2018 so great!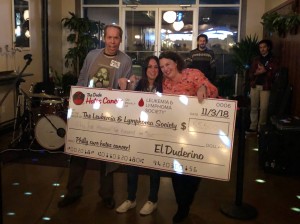 Everyone who clicked a link, donated a dollar, or gave a minute is a part of this year's success.
Thanks to your efforts, we have raised over $55,500 so far – and counting! We expect to hit our $60,000 goal by the time the final numbers come in, which would make it $10,000 MORE THAN LAST YEAR. See below for the results of the bowling and fundraising competition.
Every dollar raised goes to The Leukemia & Lymphoma Society to further their mission: to cure blood cancers and improve the quality of life of patients and their families. Because of your support, we are able to continue to fund these initiatives right here in Eastern Pennsylvania. The credit goes to our fantastic teams for the fundraising dedication.
Congratulations and Take 'er easy's to all of our winners and to everyone who knocked down a pin!
Top Bowling Teams:
We Roll on Shabbos, 1,954
Team Kyle, 1,489
Philly Loves Beer, 1,403
Top Male Bowler trophy: Waiel Abdallah, We Roll on Shabbos, 230
Top Female Bowler trophy: Anne Schaefer, We Roll on Shabbos, 153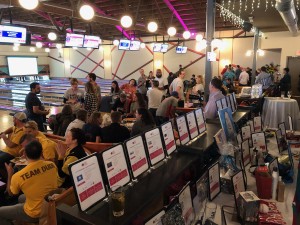 Worst Male Bowler trophy: Ben Hogeland, Team Mauritius, 38
Worst Female Bowler trophy: Jan Davis, Martin Marmots, 27
Best Team Spirit trophy: Martin Marmots
Top Fundraising Teams:
We Roll on Shabbos, $8,165
Martin Marmots, $6,590
Dawson Street Pub All Stars, $4,440
Top Fundraising Individuals:
Daniel McCauley, Martin Marmots, $3,374
Diane Galeone, We Roll on Shabbos, $2,599
Frank Hogeland, Team Mauritius, $2,305
Special Thanks to our Achievers of the Year: Helen Chung and Rob Stewart
Philly Restaurant Pass Winner: Steve Wilson, sold in proxy by Diane Galeone
Philly Brunch Pass Winner: Bill Fleming, sold by Philly Loves Beer
Let's also Recognize our Generous Sponsors:
Center City Pediatrics, The Martin Architectural Group, Blank Rome, BrainDo, Heathery Project, IEI Group, and Outside the Box Productionz. The in-kind support from Chorus Photography, Yards Brewing Company, Mike Robinson Productions, Surreal Sound Studios, Independence Print Company, CP Printing Solutions and South Bowl was truly appreciated as well, and from all of the contributing businesses and restaurants who donated prizes.
Our eternal gratitude goes out to South Bowl for providing us with a perfect home once again, hosting both the tournament as well as the official after party this year. Hats off to music by The Life In You, and the Dudes Jam for Cancer, who rocked our after party.
The Dude would not be possible if it were not for all of these collective efforts.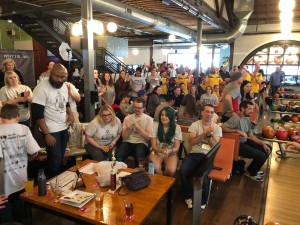 Tournament photos, courtesy Cindi Landmesser Photography, will be posted on Facebook soon!
The 2018 tournament may be over, but any time of the year is a good time to have fun and fight cancer. If you have an idea for an event, contact Mike at mikem@thedudehatescancer.com and let's chat. Be sure to follow us on Facebook, Twitter and Instagram to be in the know for more events, all year long.
Since its inception in 2006, The Dude Hates Cancer has now raised over $760,000!!! Thank you once again for another memorable campaign!